---
Spark rally
---
Entry fee \500
Pay entry fee and recieve a random Planeswalker badge.

Let's clear missions and ignite your Spark!
Spark prize
If you achieve 5 missions, you will receive a foil promo basic land.
If you achieve 10 missions, you can draw spark lots.
If you achieve all Gatewatch rally (extra missions that require more than 2 person), you can draw extra spark lots.
Spark lots contents
GRN and RNA guilds badges
Special T-shirt
RNA 1 box
RNA 1 pack
Spark Rally badge complete set
Information on guild mission can be viewed on the Spark Rally Official Twitter(@BMsnsevent)
Mission time
4/19(Fri) Registration 12:00-17:00(Counting mission tweets -17:30)/ Recieve prize 12:00-19:00
4/20(Sat) Registration 9:00-17:00(Counting mission tweets -17:30)/ Recieve prize 9:00-19:00
4/21(Sun) Registration 9:00-16:00(Counting mission tweets -16:30)/ Recieve prize 9:00-18:00
---
Mission
---
Mission 1 Road to ignite
Follow @BMsnsevent and post your badge and pamphlet!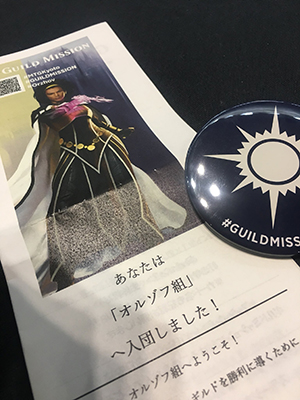 Mission 2 Catalyst the awakening
Post the year you started Magic, first bought set name,and memories!

Mission 3 Enter the plane
Post your favorite plane(Ravnica,Dominaria,Ixalan,etc)!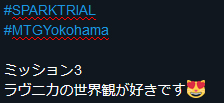 Mission 4 History of heroes
Post your Magic achievement(FNM 3-0,winning MTG Arena competitive metagame challenge, etc)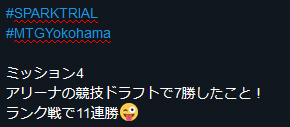 Mission 5 Fellow of the Spark
Post a photo with other Spark rally players!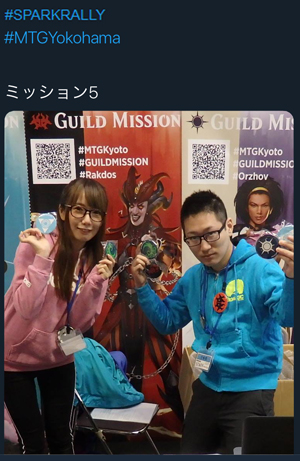 Mission 6 Spark battle
Post a photo Pkaying Magic with other Spark rally players!
Mission 7 Planar relic
Post a photo of GP trophy or Planeswalker cardboard cutout!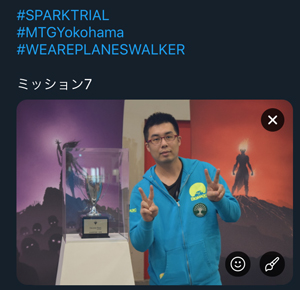 Mission 8 Planar inquest report
Post your impression for Magic Fest!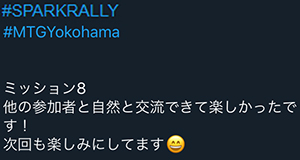 Mission 9 Yearning Planeswalker
Post a photo your favorite Planeswalker card!
Mission 10 Ignite the Spark
Post a your photo or art with card name and card text!
example:Nameless Dragonmaster
RRGG
+1:2 damage to any target
-2:3 damage to each creature
-7: 7 damage up to seven targets.
loyalty 2
---
Gatewatch rally(extra mission)
---
To achieve extra missions,you need team up with other Spark rally players.
Please write your team name for each Gatewatch rally post.
#MTGYokohama
#SPARKRALLY
【your team name】
Extra mission 1 We are Gatewatch
Post a photo all of your team member!
Extra mission 2 Share the happiness
Post photo(s) what each team member got at the venue(packs, cards, supply or anyathing )!
Extra mission 3 Break with friends
Post a photo the scenery eating in a team!
Please all mission tweet individually(not reply).
*When uploading photos to Twitter, consider making efforts such as devising or processing so that third parties unrelated are not appeared.
MagicFest Kyoto 2019 Top Page